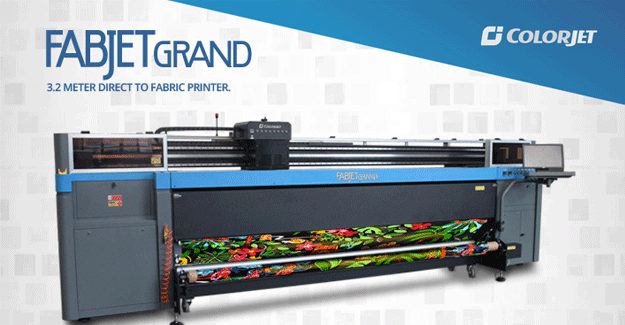 ColorJet India Ltd, the largest Indian manufacturer of wide format digital printers is showcasing the Finest Textile Solutions at ITMA ASIA, Shanghai, China 2018 starts from 15-19, October, 2018. Looking at the growth of Digital Textile Printing Industry and Pigment Inks Printing, this year Colorjet is displaying the latest technology Textile products METRO and FABJET GRAND on Pigment Inks.
Wider variety, higher durability and a simpler post-treatment process made pigment ink as the most popular ink used in the textile digital printing industry today. The pigment inks exhibit the highest degree of durability in colour and light fastness. It is suitable for a wide range of fabrics including blended fabrics of different fibres and for the first time, Colorjet offers a true solution FABJET GRAND for digital textile printing on short-run applications.
As we all know, the pigment printing process does not need the complex steaming and washing steps after printing. Since the pigment ink is printed on the top layer of the fabric, it does not require extensive hot steaming at high temperature to fix the pigments and subsequent washing. Consequently, the pigment printing process requires significantly less water due to the omitted washing step and this is exactly what the Colorjet's Fabjet Grand is specialised for.
The FABJET GRAND from Colorjet is a 3.2 MTR Direct to fabric printer and ideal for direct-to-fabric printing solution for creating large customised patterns for the home furnishing fabrics. Heavy duty design with rigid structure makes the machine suitable for rigorous shop floor operating conditions.
The use of FABJET GRAND on pigment inks has shown remarkable benefits to users. It has shown much reliable printing performance, easy handling and cleaning, outstanding Color and Light-fastness to users. The entire process of FABJET GRAND printing on pigment inks is very quick and easy as compare to competitor's products.
Keeping China's 12th Five-Year Technical Progress Outline in mind, Colorjet meets the mandatory standards in energy saving and effluent reduction by enabling large-scale implementation of clean production. It also establishes low-carbon, green and cyclic economy system which would require while accomplishing energy-saving and effluent-reducing tasks specified by State Government of China.
Colorjet has been assiduously pursuing excellence in digital printing since 2004. As a world recognised brand, Colorjet is the largest manufacturer of wide format digital inkjet printing machines in India and over 4000 machines are in operation around the world, across India, Middle East, Australia & Europe. Today, ColorJet maintains its No.1 position in India as per latest IDC 2018 Q1 Super wide report.