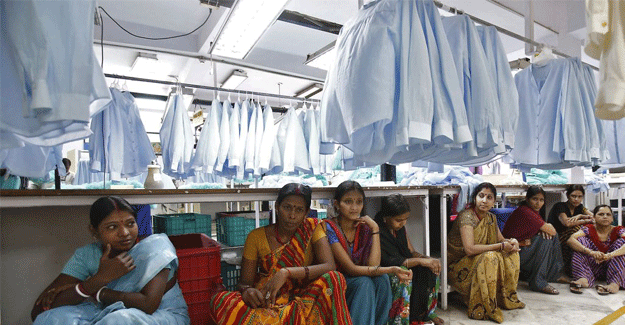 Indian state governments are trying to woo investments in their textile industries, with a slew of incentives and policies. The latest to join the fray is Maharashtra, with its textile policy for 2018-23, which aims to attract textile investments worth Rs 36000 crore into the state. The new policy is expected to create 1 million jobs in the sector.
Some of the major aspects of the policy include reducing the power tariffs and increasing capital subsidy to 45% for spinning mills. The policy takes forward the Make in Maharashtra concept to strengthen the cotton industry and silk business. It aims to reduce the regional imbalance in the state as higher concessions would be given for setting up units in Vidarbha, Marathwada and North Maharashtra region. Separate emphasis will be on cotton producing regions, which have reported large number of suicides by farmers, said an official.
Several schemes of Rs 4649 crore will be implemented under the new policy. The policy intends to create infrastructure for textile cluster and garment parks. The policy has also suggested to prepare a proposal for setting up a textile university in the Vidarbha region.
"We have made provisions in reducing power tariffs for spinning mills. Besides, spinning mills were given financial assistance in several installments. Now, we have decided to give them financial assistance in two installments only," said Subhash Deshmukh, state Textile Minister.
According to state government officials, one of the major reasons for spinning mills incurring losses is the higher power tariffs, compared to other states.
"The power tariffs in Gujarat, Karnataka and a few other states are between Rs 4 and Rs 6 per unit while it is Rs 9 per unit in our state. So, the spinning mills will be encouraged to set up solar power plants on their land and the power generated from it will be utilised by the spinning mills. Hence, the power tariffs are likely to be reduced to Rs 3.5 per unit," said an official adding that it would give major boost to spinning mills.
Besides, capital subsidy has been increased substantially for processing units, spinning mills, and modernisation of powerlooms. It proposes to give 45% capital subsidy for processing units, and 25% for spinning mills and modernisation of powerlooms. It has also proposed to give additional subsidy of 20% for processing and garment units in Vidarbha, Marathwada and North Maharashtra.
The earlier textile policy of Maharashtra government had succeeded in attracting some of the larger textile players to Vidarbha region. But the targets of investment and employment were not achieved.
Investment figures from the Department of Industrial Policy and Promotion (DIPP) shows that total IEMs (Industrial Entrepreneurs' memorandum) implemented in the textile sector in 2015 amounted to Rs 7153 crore, as against proposed investments in the sector to the tune of Rs 15080 crore. In 2016, the implemented IEMs amounted to Rs 9241 crore, against proposed investments of Rs 21669 crore, received by DIPP. And in 2017, implemented IEMs were worth Rs 3695 crore, as compared to proposed investments of Rs 15271 crore.
These figures put in stark contrast the ambitious targets that various state governments have set for themselves to attract textile investments.
Gujarat's generous textile policy
Gujarat remains the most attractive destination for textile investments in 2017, and could well continue to be so in 2018. In late 2017, the Gujarat state government unveiled a generous textile and apparel policy.
The Gujarat government is offering wage subsidies to apparel factory owners – a subsidy of Rs 4000 for women workers, and Rs 3500 for male workers. Other incentives include subsidy in interest, exemption of stamp duty and partial relief in electricity duty.
Besides, the Gujarat Industrial Development Corporation will set up 16 industrial estates and parks, mainly in locations that have no industrial base as of now. The GIDCs, spread across 2400 hectares in 16 villages, will have the potential to accommodate 15,000 factories and create 100,000 jobs.
'Karnataka tops in investment intention across India for last 2 years'
The state government's "Nuthana Javali Neethi" policy for five years since 2013 enabled stakeholders to set up 844 textile MSMEs and 18 greenfield textile parks in the state at an investment of Rs 4,954 crore and provided jobs for 1.3 lakh people. Incentives and reliefs worth Rs 247 crore were also given to the firms.
Karnataka rose to the number one position among all states across India in investment intentions in 2016 and 2017 from the 11th position in 2013, Governor Vajubhai R Vala said.
He said the state government had set a Rs 5 lakh crore investment target and 15 lakh jobs for a 5-year period since 2014 when the new industrial policy came into being. "During the last four years and six months, the state has attracted Rs 3.39 lakh crore of investments for 1,869 projects with potential to generate 9.5 lakh jobs," Vala said.
Of the 13.25 lakh jobs created over the last four and a half years, 1.89 lakh were in the large industry sector and 11.36 lakh in the micro, small and medium enterprises (MSME) sector.
Telangana govt offers incentives to textiles industry
The Telangana government too had announced a slew of sops, including capital subsidy, to boost the textiles and apparel sector in the state. The sops are part of the Telangana Textile and Apparel Incentive Scheme 2017 announced by the TRS government with an aim to attract investments and generate job opportunities for the local population.
According to the Governement Order, "While the government is keen to encourage industry with the primary objective of attracting investments and generating employment opportunities for the local population, it is hereby clarified that it expects the industry to provide a fair and decent wage to the workforce."
The government said units not adequately compensating the workers will face action.
Telangana textile policy too offers many incentives. Under the policy, VAT/CST/ SGST reimbursement is available for tax collected on end product/intermediates within the entire value chain (from cotton to garment and made ups) to the extent of 100% for a period of seven years from the date of commencement of commercial production. Or up to realisation of 100% fixed capital investment the eligible fixed capital investment, whichever is earlier.
Existing units which undergo expansion/modernisation/ diversification will be entitled to get similar benefits under this clause. A capital subsidy of 25% will be provided for conventional textile units and 35% for technical ones involved in production of medical textiles, geotextiles, agrotextiles and protective clothing, among others.
For units established with an investment of Rs 200 crore or above or providing more than 1,000 jobs, the incentives will further be customised, the GO said.
South Korea's Youngone Corporation Chairman Kihuk Sung recently announced a US$ 300 million investment in the state's Kakatiya Textile Park.
UP's ODOP to create 20 lakh jobs
One District, One Product Scheme of the UP government is aimed at giving a major push to traditional industries synonymous with the respective districts of the state. UP is uniquely famous for product-specific traditional industrial hubs across 75 districts, including Varanasi (Banarasi silk saris), Bhadohi (carpets), Lucknow (chikan), Kanpur (leather goods), Agra (leather footwear), Aligarh (locks), Moradabad (brassware), Meerut (sports goods) and Saharanpur (wooden products).
Uttar Pradesh chief minister Yogi Adityanath said the `One district One Product' scheme would create over 20 lakh jobs in the state and would help in stemming the migration of the unemployed youth from the state. CM said the proposed 'UP Investors summit' in February would bring fresh investment of Rs 2.5 lakh to 3 lakh crore in the state.
Under ODOP scheme, the district-specific industries and products will gain national and international recognition through branding, marketing support and easy credit. ODOP is basically a Japanese business development concept, which gained prominence in 1979.
The UP Investors' Summit has attracted huge response from across the country, following the state government's new industrial policy that seeks to offer not just a slew of pro-industry measures, but more importantly a safe haven for investments, with its policy of zero tolerance for corruption and law and order issues.
The government has also assured 24×7 power supply to industry.
To foster growth of the industries, the state government is also planning Pharma Park and Textile Park, further extension of expressways to provide better connectivity not just within the state but with neighbouring states of Bihar and Madhya Pradesh.
To woo big-ticket investors and industrial groups, the Yogi Adityanath government is gearing up to offer industrial grade land from a menu of available swatches and plots in Uttar Pradesh. Such land has been identified under various state industrial development authorities viz. Noida, Greater Noida, Lucknow Industrial Development Authority (LIDA) etc., apart from pockets flanking Lucknow-Agra Expressway and the proposed Purvanchal Expressway. The government has planned to earmark land falling within 10 km of these expressways.
UP is particularly seeking investments from Gujarat, specifically in textile and pharma sectors.
UP government officials said, "We have discussed point-to-point problems coming in the way of rapid growth and come up with policies in different departments to bring in transparency and to create conducive environment. We have also adopted a zero tolerance policy towards corruption and law and order issues."