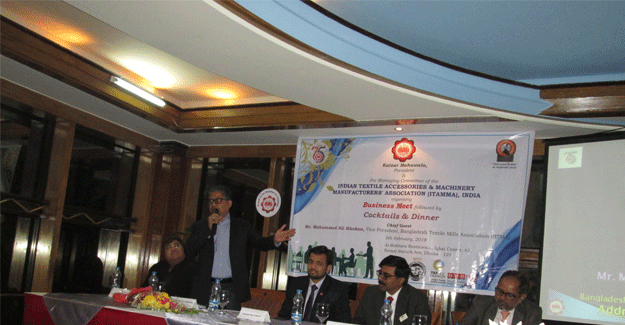 ITAMMA has proposed the setting up of a dedicated pavilion at the DTG 2019 exhibition to showcase Indian textiles and machinery manufacturers and their ware. They plan to secure the presence of a strong Indian contingent in the next Dhaka fair, a release announced.
The 15th Dhaka Int'l Textile & Garment Machinery Exhibition (DTG), the largest trade fair of its kind held in Bangladesh, was organized from February 8-11, 2018 at Bangabandhu International Conference Centre (BICC). The event was jointly organized by Bangladesh Textile Mills Association (BTMA) and Yorkers Trade & Marketing Service Co., Ltd. It was also supported by both local and overseas associations, including Bangladesh Garments Manufacturers & Exporters Association (BGMEA), Bangladesh Knitwear Manufacturers & Exporters Association (BKMEA), Korea Textile Machinery Association (KOTMA), Indian Textile Accessories & Machinery Manufacturers' Association (ITAMMA), Turkey Textile Machinery Manufacturers and Accessories Association (TEMSAD), Jiangsu Textile Machinery & Accessory Industry Association, Taiwan Association of Machinery Industry (TAMI), and Taiwan Textile Federation (TTF), adding great luster to the show.
DTG'2018 showcased over 1,200 booths in 19 halls, booked by 1,100 exhibitors coming from 36 countries & regions including Austria, Bangladesh, Belgium, Brazil, China, Czech, Denmark, France, Germany, Hong Kong, India, Indonesia, Ireland, Italy, Japan, Korea, Malaysia, Netherlands, Pakistan, Poland, Portugal, Romania, Singapore, Spain, Sweden, Switzerland, Taiwan, Thailand, Turkey, UAE, UK, the U.S., and Vietnam, among others.
DTG has seen its scale become seven times as large as 15 years ago in terms of exhibitor numbers. This significant growth in exhibitor turnout indicates the promising future of Bangladesh's textile and garment industry.
Bangladesh is the world's second largest exporter of ready-made garments (RMG) after China. The textile and garment sector is vital to its economy, creating almost four million jobs and accounting for over 80% of its exports.
As one of the main growth drivers for the Bangladesh's textile and garment industry, DTG has managed to bring all the renowned brands to this platform to showcase their latest machinery and products.