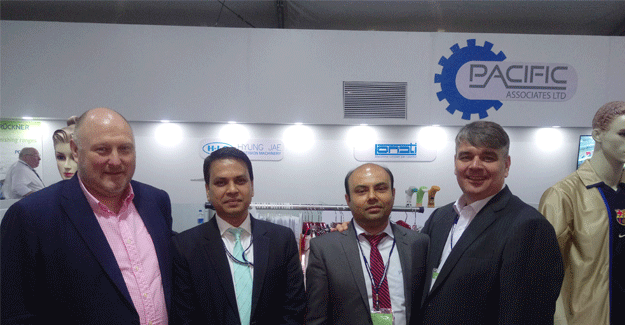 Establishing contacts and showing presence – KARL MAYER's successful participation in DTG Bangladesh, 08.-11.02.2018 in Dhaka
After four days, the DTG Bangladesh ended successfully on 11. February 2018. This leading trade fair for machines of the textile and clothing industry took place at the Bangabandhu International Conference Center in Dhaka, and had roughly 1,100 exhibitors from 36 countries.
Karl Mayer was also among the exhibiting companies; this enterprise belongs to the leading manufacturers of the international textile machine construction. The global player attended the event on the stand of its regional agent, the Pacific Associates Ltd., and was very satisfied with its participation in the trade fair. "We were able to present us and our products, and could make a lot of new contacts", said Mark Smith, Sales Manager of Karl Mayer's Warp Knitting Business Unit.
In the course of the numerous discussions during the exhibition he noticed the trend towards reorientation to in-house production. A lot of manufacturers, who have traditionally imported fabrics for making garments, are now considering to set up their own in-house textile production. Warp knitting and, thus, Karl Mayer plays a significant role in their considerations.
The experts of Karl Mayer's Warp Preparation Business Unit also had interesting and fruitful discussions during the event, mainly with customers who are already operating Karl Mayer machines. As a whole, the company draws a positive trade fair summary.