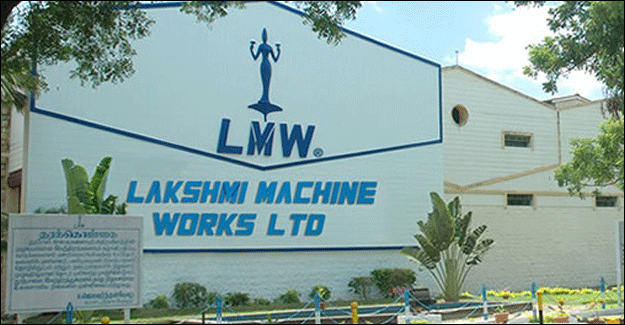 Leading textile spinning machinery manufacturer Lakshmi Machine Works Ltd (LMW) with its technologically advanced product "Lakshmi Suction Compact System" has proven its commitment to provide cost effective solutions based on varied needs of customers and ever changing quality demands. The highlights of the system's technical edge and field performance are as follows:
Superlative features
This new compact spinning system has suction nozzles which work with single as well as Siro yarns. It has Quadra suction nozzles with top suction that improves user friendliness. It is also designed to have Direct Loading System (DLS) for top rollers resulting uniform and consistent yarn quality. A special spinning angle ensures enhanced machine performance. It comes with perforated rubber apron for better compacting and lesser cleaning requirements as well as ensures lower power consumption.
Suction Compact System Arrangement
Better compacting begins with better drafting of roving. The fourth bottom roller is driven by servo motor to deliver the compacted yarn with utmost accuracy. This separate drive for the fourth roller ensures that there is no additional load on the drafting drive. The roving from bobbin passes through main drafting zone of 3 over 3 pneumatic drafting system and material is guided over the perforated apron. The apron is placed on the nozzle assembly containing suction slot. Tension draft can be adjusted with a single touch in the screen.
R&D has helped Lakshmi suction compact system to fulfill all technological requirements to produce good compact yarn. The new system ensures uniform suction throughout the machine and improved guiding of compacted fibres strand to the nip of the delivery roller. Advanced design of the suction slot and nozzle ensures perfect fibre guidance through perforated aprons, fluff accumulation free compacting zone. Also, easily adjustable tension draft ensures technological fine tuning.
Direct Loading System (DLS)
Direct loading system (DLS) for the guiding roller ensures optimum load to deliver the best quality yarn. With DLS, quality of the output yarn can be optimised and load on the roller can be easily adjusted. Top arm load can be maintained like regular machine and the distance between the compact delivery roller and front top roller can be precisely adjusted to enhance the performance.
Suction Arrangement
Top suction nozzle unit with its unmatched ease of operation ensures effective suction system for compacting. A single suction nozzle tube ensures suction for four spindles thereby easing work for operators during cleaning and maintenance. Varying boot diameter across the length of the machine ensures uniform suction thus ensuring every spindle produces better quality yarn with uniform compacting.
Special Spinning Angle – A Unique Design
LMW always aims for integrating the inbuilt machine design advantages to ensure that its customer enjoys maximum benefits. Keeping this purpose in mind, LMW has implemented a special spinning angle for the Lakshmi compact spinning system which makes yarn stretch length lesser, yarn tension lower, better twist flow upto the nip and finally gives the comfort of reduction in end breaks up to 20%.
Versatility
Lakshmi Suction Compact system works with multiple fibres like cotton, polyester, viscose, modal, micro modal, PV blends, PC blends, melange, bamboo, modal cotton blends, Tencel and Regenerated fibres. These features have ensured that the system has been accepted by top-end spinners and hence LMW could increase its compact spindle base to 1.5 million spindles within a short period.
Power Consumption
Reducing energy consumption is integral part of innovation at LMW. This has been made possible by well augmented suction ducting system and nozzle design. Nozzle has been designed in such a way to meet suction requirements of each spindle with minimum suction loss, conserving precious energy.
In short, the Lakshmi Suction Compact Spinning system can help spinners achieve higher standards of yarn quality with less cost. Adding to the above, there are advantages of lesser investment cost, quick return on investment and dedicated after sales service support.