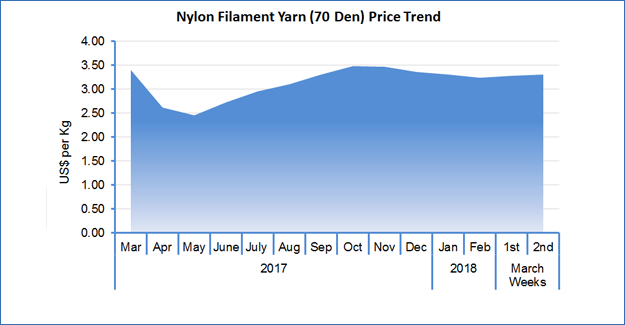 Caprolactam (CPL)
Caprolactam prices firmed up in Asian markets during the first half of March although feedstock benzene market weakened further. The support for hike was tight supply and modest demand with run rates of polymerization units steady at 83% and yarn makers at 82%. Asian markets rose US$100 in the fortnight with SE and FE Asia at US$2,100-2,150 per metric ton while Japan made goods were traded at US$2,050-2,100 per metric ton. In China, spot prices for liquid goods were up at US$2,600-2,680 per metric ton, while flake solid materials were traded at US$2,630-2,760 per metric ton. In contracts, Sinopec issued March nomination at US$2,695 per metric ton while Fibrant at US$2,665 per metric ton, for liquid good.
Nylon Filament Yarn (NFY)
Nylon filament yarn markets continued to gain support from rising caprolactam and favorable chip markets, with higher offers. Demand was seen increasing as textile producers in China resumed operations after the Lunar New Year holidays. Demand for FDY, DTY and POY was positive while warp knitting mills and covering mills ran at 70% and circular knitting mills and lacing mills at 50%. These run rated will rise with more plants restarting next week and demand is anticipated to be healthy. Nylon FDY70D/24F SD prices were raised US cents 10 to US$3.69-3.72 per kg while DTY70D were up at US$3.80-3.94 per kg (converted from RMB to USD). Cord fabric 1,260D prices rose to US$4.18-4.33 per kg while nylon staple fiber 1.5D prices were up US cents 8 at US$3.15-3.16 per kg.