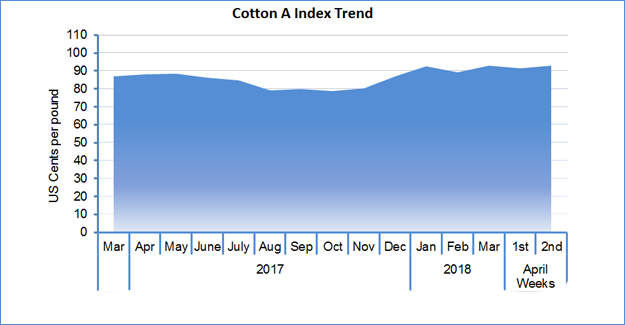 Cotton markets were volatile throughout the first half of April but settled higher as both the old crop May and July contracts settled above previous fortnight. The new crop December contract settled at US cents 77.94 per pound, up US cent 0.28 on the fortnight. The near month May contract gained US cents 3.71 at US cents 85.54 per pound in similar comparison. Fundamentals remained the same as in the prior two months – with strong export sales and even stronger shipments, coupled with active on-call sales. However, uncertainty squeezed market activity as trading was fixated on impending tariffs in the US-China conversation. No new tariff restrictions were in force between China and the US and may be coming or contemplated over the next three months.
Global spot benchmark, the Cotlook A index gained US cents 0.50 in the first two weeks of April at US cents 92.05 per pound, after gaining US cents 2.10 in the second week.
The Chinese Ministry of Commerce, in response to US proposed tariffs on Chinese goods, announced plan to impose a 25% tariff on 106 US goods, including agricultural products such as cotton, soybean and corn. The plan can adversely impact the entire US cotton industry, as China imports a significant volume of US cotton each year. Meanwhile, the China Cotton Index declined 146 Yuan to 15,511 per metric ton (US cents 112 a pound).
Cotton prices in India moved up this fortnight influence by spurring US cotton Futures and trade war between US and China. Spot prices were up INR300-500 for many specs while a few moderated INR100-800 on the week. Benchmark, Shakar-6 was traded at INR40,900 per candy, up INR 300 on the fortnight.
Cotton yarn market were steady in China as participants were cautious overall, with prices unchanged. Offers for some best-sell products picked up slightly, mainly for high-quality and high-count yarns, while the prices of conventional products were unchanged. Cotton yarn prices were steady with 32s at 23.15 Yuan per kg (US$3.68 per kg) and 40s at 24.20 Yuan per kg (US$3.85 per kg) in Shengze. In India, with cotton prices rising this week, yarn prices remained unchanged and may move up in coming week. 30s combed cotton yarn for knitting remained stable at INR195 -196 per kg (US$3.00) in Ludhiana.