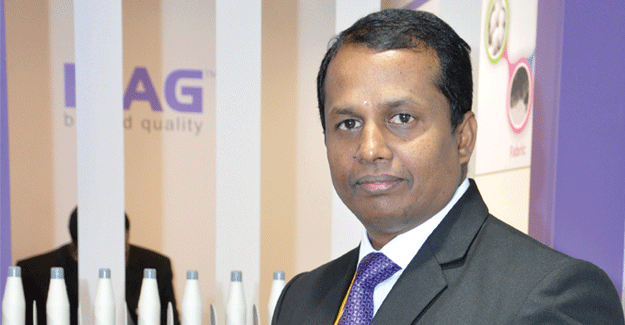 With the experience and knowledge that Mag Solvics has gained over the years and to serve the core requirements of the textile industry, Mag has developed a new online monitoring system titled 'SPinFO'.  R. M. Murthy, Managing Director, Mag Solvics Pvt. Ltd. talks to Henry Dsouza about their new product SPinFO at ITMA 2015.
What new did you showcase at ITMA?
The new product we launched is called SPinFO. It's an online monitoring system which monitors the production, power consumption, air consumption, rogue spindles, doffs, slip spindles, stoppage, idle spindles, end breaks, draft and temperature and RH. In short the SPinFO system monitors the entire spinning unit.
How does SPinFO work exactly?
SPinFO, is an online monitoring system developed by us. It acquires data from each and every machine precisely and provides a detailed overview of the manufacturing process in the form of SMS or email to the users at various levels such as operators, supervisors, managers and top management, for immediate action, analysis and prompt decision making, thus ensuring the lower manufacturing costs at the spinning mill. The system provides information in six tiers:
Tier 1- Spindle Level
Tier 2- Sectional Level
Tier 3- Machine Level
Tier 4- Block Level
Tier 5- Plant Level
Tier 6- Mail and SMS
Did you get any orders for SpinFO at ITMA?
Yes. We booked firm orders for about 60,000 spindles from three customers at ITMA.
Which other products are you showcasing here at ITMA?
Other than SpinFO, we are showcasing the HVT, HVI, Tester and TensoMaster products at ITMA. So far we have installed more than 150 HVT, 20 Tester and 10 TensoMaster testing machines in the textile industry.
What was the response at ITMA?
The response was delightful for us. We had more than 900 visitors from more than 18 countries at our stall out of which we had 200 serious and valid enquires registered with us. We have also appointed three agents for Latin American Countries.
What investment trends are you witnessing in India, Bangladesh and China?
At present, India is witnessing a downturn in the market, but eventually it will pick up. Bangladesh is a politically unstable country, the investment there is a question mark. In the recent days, there seems to be a boost in the economy, but the labour cost and electricity issues have slowed investments in the country. China is doing quite well.
How are you competing with the other suppliers in the market?
In this challenging environment, we give our clients the best quality product at competitive price and the finest after sales services. This is the only way we are competing with the other suppliers in the market. We manufacture quality control equipments with technology that match the best globally, thus ensuring market acceptance.
To list out some of the features of SpinFO:
The software is designed to provide the correct data to the right person at the right time via SMS or email
It's a Windows based user friendly software
Localised data selection enables the user to focus on the machine under his supervision
Easier resource and count mapping for machine
Multiple users can access any data simultaneously, without compromising data integrity
Multiple language support to enhance end user accessibility
Automatic data back-up to eliminate risk of data loss.