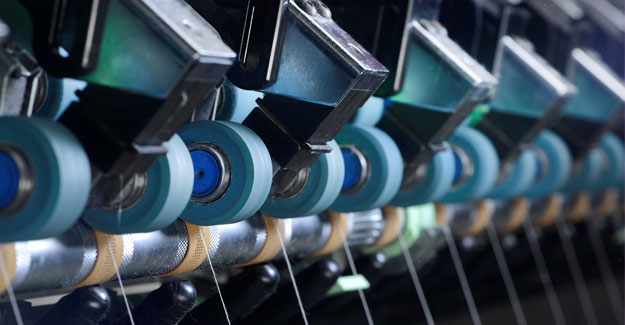 SpinPact, the latest compact spinning system from Lakshmi Machine Works offers a compelling value proposition that is hard to refuse.
Offered with LMW Ringframe LRJ 9 series, the SpinPact is a high tech, unique suction compact system that renders supreme quality, with the most ease of handling. Loaded with practically designed features based on decades of experience, LMW has now brought the best on to a single platform for the discerning customer.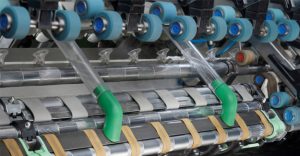 Breakthrough results in SpinPact's build come from simplicity of design and re-imagination of the entire manufacturing process with an obsession towards achieving better results.
More importantly, quality stems from consistency, narrow range of deviations, and the best use of available resources. The spinning triangle of SpinPact by virtue of its design is shorter, thus facilitating smooth and uniform flow of twist to the nip of front roller, aligning fibres in a uniform fashion which finally results in least hairiness and higher yarn strength.
A suction connector for every four spindles greatly improves effective compact suction capacity.
The smooth movement of yarn is guaranteed by a precisely-designed perforated apron tensioner.
The fourth top roller has a direct loading system (DLS) to guide the fleece better.
All these features help achieve significant reduction in breakages and improvement in overall quality.
SpinPact produces lesser hairiness index, better yarn strength and overall lesser objectionable faults, while also ensuring better and smoother downstream processes.
The machine is suitable for both finer range and coarser range of counts.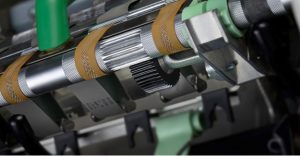 Unlike other systems, LMW's SpinPact has a unique class-leading spinning geometry for better twist insertion and twist flow. This is ideal to achieve the desired yarn qualities in terms of strength, hairiness, elongation, and productivity. The innovative nozzle design helps to guide the fibres till they enter the fourth roller, following which a specially designed slot helps in prolonged compacting.
The star feature of LMW Compact System is its top suction arrangement, which offers remarkable ease of handling. By virtue of the compact suction system's position on top, the operator can now easily access the bottom of the drafting zone, which greatly increases reach, and reduces cleaning time – that directly translates to higher operational efficiency. Every ingredient in SpinPact is specially designed for maximising ease of handling with betterment in quality and productivity. The special grade aluminium compact nozzle used in the build is further coated for durability that is also detachable for every eight spindles, effectively bringing down costs and downtime in the long run.

To summarise, the customer has five-fold benefits when choosing the LMW SpinPact system.
Firstly, yarn structures are principally influenced by the system's design and construction. LMW's SpinPact has been built with the right flexibility to handle both single and SIRO compact systems with precision, securing uniform cohesion and strength at every level.
Secondly, SpinPact offers the highest strength with the lowest hairiness index, unmatched by competition.
Thirdly, as a result of the machine's streamlined processes, there is excellent quality in the output, with unflinching uniformity.
Fourthly, SpinPact is highly energy efficient, surpassing competition by a long distance.
Fifthly, SpinPact's proven apron compact yarn production system is remarkably economical in comparison to competition.